The skiing area
The resort of Châtel is located in the heart of the Châtel "Espace Liberté" and Portes des Portes du Soleil ski areas. With a single ski pass, so many possibilities are available to you!
Châtel, a charming resort, located in the heart of the Portes du Soleil ski area in the Vallée d'Abondance.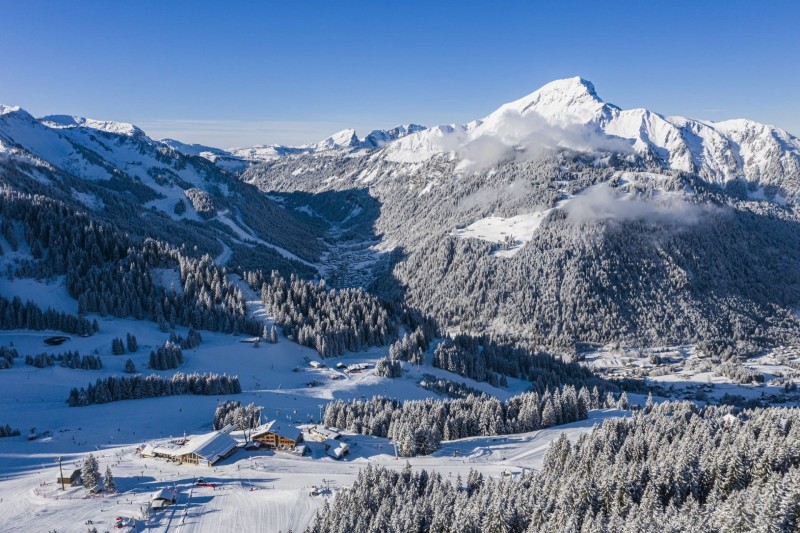 The Portes du Soleil ski area: one of the largest ski areas in Europe: 600km of skiing, 300 slopes and 197 ski lifts.
One single ski pass covers 12 interlinked French and Swiss ski resorts:
8 French resorts: Avoriaz, Morzine, Montriond, Les Gets, Saint Jean d'Aulps, Abondance, La Chapelle d'Abondance and Châtel.
4 Swiss resorts: Champéry, Torgon, Morgins, Les Crosets, Val d'Illiez and Champoussin.
The Châtel "Espace Liberté" ski area, your wide and varied playgroung - 130km of skiing, 81 slopes and 63 ski lifts.
Set off to explore a ski area with a wide range of slopes, for your pleasure!
The both mountain massif of Châtel: Super Châtel/Barbossine and Linga/Pré-la-Joux
La Chapelle d'Abondance resort
The Swiss resort Torgon
The Corbeau Area of the Swiss resort Morgins
CONNECTION BETWEEN BOTH SECTORS SUPER-CHÂTEL & LINGA
Thanks to the opening of 2 chairlifts :
6-man detachable chairlift "Portes du Soleil " Vonnes – Super-Châtel,
4-man detachable chairlift "Gabelou" Vonnes - Linga
Access to Super-Châtel:
the Super-Châtel telecabin is located in the centre of the village, 100m from the church. The south-facing Super-Châtel ski area has a special area designed for beginners.
Access to Barbossine:
the Petit-Châtel chairlift is located at 1.6km from the village, in Petit-Châtel.
The Super-Châtel and Barbossine areas are linked. From Super-Châtel and Barbossine area, you can reach La Chapelle d'Abondance (in France), Morgins and Torgon (in Switzerland).
Access to Linga:
the Linga telecabin is located at the bottom of the resort, 1.8km from the village.
Access to Pré-la-Joux:
The Pierre-Longue and Pré-la-Joux chairlifts are located in Pré-la-Joux (at the end of the valley, 6 km from the centre of the village).
You can link the Linga and Pré-la-Joux ski areas with your skis on. This area is ideal for all levels, beginners and experienced skiers. There's a slope to suit everyone.
The Linga/Pré La Joux provides
direct access
to the French Portes du Soleil resorts of Avoriaz, Morzine and Les Gets.
Book your accommodation through Châtel Réservation and get discount rate on your ski passes